Audio has become a big part of our productivity and entertainment setups from our Homes, office, Travel, or when having outdoor activities. Apple has among the best audio on their gadgets from the iPads, iPhones to their iPads but in June 2017 WWDC event Apple unveiled the HomePod but was later released in 2018 February and being the first generation exceeded the expectations of many.
In October 2020 during the COVID pandemic, Apple unveiled the HomePod Mini which has a 4 inches sphere and is way cheaper than the 1st generation. In November the same year, Apple started selling the HomePod through Pre-orders and it was the next big audio in the market.
The HomePod mini is powered by an S5 chip which is found in Series 5 Apple Watch. The Chip analyses Music to optimize Loudness and adjust the Dynamic range.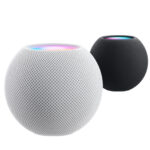 The HomePod Mini has 2 Stereo panels that are controlled by one single driver compared to the 1st generation HomePod which has 7 Tweeter arrays that each have its own driver. The single driver on the HomePod mini is powered by a Neo dynamo magnet and 2 radiators. The acoustic on the HomePod mini is the same as on the first-gen HomePod.
The new HomePod mini has 3 microphones which came as a shock to many since the 1st gen HomePod had 6 microphones though apple says with the new S5 chip the audio pick is excellent. On the same Audio note HomePod mini, you can Personalise different voices up to 6 family members.
The ultrawideband Chip allows interface with an Apple device when you are in a close range. The HomePod mini is capable of activating the "Find My" and will trigger a sound. You are also capable of controlling the Homekit smartphone accessories which means it will serve as a Home Hub.
The biggest downside of Apple HomePods is they have to always be connected to power for them to work which means even if the sound is good you can't move around with it.