Apple yesterday hosted its California streaming event with its usual go big or go home extravagant openings which started with a beautiful song that was supposed to depict the California soul.
[videopack id="3998″ width="1280″ height="485″]https://applecenter.co.ke/wp-content/uploads/2021/09/Apple-Event-—-September-14-1.m4v[/videopack]
Immediately after we see Tim cook who immediately gets down to business and talks about the Apple TV plus and the highlight of its upcoming shows for the next season.
Next Tim cook talks about the iPad and then immediately hands it's over to melody who introduces the iPad 9th generation.
The new iPad comes with an A13 bionic chip which was let down as we expected either the A15 bionic or the M1 chip however it is still better than last year's iPad which had the A12 Bionic.
Apple claims that this iPad is 3x faster than the best-selling Chromebook and 6x faster than the bestselling android.
Display
The iPad has a 10.2 retina display
Camera
The front camera has also been upgraded to 12 MP ultra-wide camera and has a new feature called center stage which was on the iPad Pro.
[videopack id="3999″ width="1280″ height="485″]https://applecenter.co.ke/wp-content/uploads/2021/09/3.mp4[/videopack]
The big new special feature in the iPad 9 is the 12MP front-facing camera that supports Apple's Center Stage tech, first seen in the iPad Pro. It follows your face as you move, tracking you so you stay centered.
[videopack id="4000″ width="1280″ height="485″]https://applecenter.co.ke/wp-content/uploads/2021/09/4.mp4[/videopack]
The iPad will have touch ID and will be compatible with the smart keyboard folio and the first-generation pencil
Storage
Its storage will start at 64GB for its base version. Available in space grey and silver.
The next introduction was the iPad mini.
The iPad mini got a new sleek design that follows Apple's current trend of vibrant colours.
Purple
Pink
Starlight
Space grey
Display
The new iPad mini also had an upgrade with an all-screen 8.3" liquid retina display with wide colour, true tone, 500 nits of brightness and artificial cooling
With an all screen display the touch id was moved to the top button just like in last year's iPad Air.
Performance
The new iPad gets a 40% boost in CPU performance and an 80% leap in GPU performance and a faster neural engine to provide 2x faster machine learning compared to the previous generation of iPad mini
The iPad also gets a usb-c port.
Camera
Camera-wise it comes with a 12mp rear camera with focus pixels and a 1.8aperture and true tone flash
On the front, it has a 12mp ultra ultra-wide camera with a 122-degree field of view and center stage feature.
With the usb-c port, iPad mini now supports the second-generation apple pencil.
The apple watch series 7 was also launched with an emphasis on its fall detection capabilities.
[videopack id="4001″ width="1280″ height="485″]https://applecenter.co.ke/wp-content/uploads/2021/09/fall.mp4[/videopack]
Design
Design-wise the new apple watch has softer more rounded corners that refract light on its edges which creates a wraparound effect and seamless integration with the curvature of the case.
Display
The new apple watch has a better display than last year's series 6 with over 20% more screen area which is 50% more than series 3. Apple watch has thinner borders of up to 40% of the previous generation of apple watch.
Apple watch series 7 is also 70% brighter indoors.
The buttons are larger and redesigned to compliment the shape of the new display making them easier to tap.
[smartslider3 slider="5″]
It can also fit 50% more text on the screen than series 6 so you can read more texts without having to scroll a lot.
They are also introducing a keyboard feature and quick path to predict the words you're typing.
[videopack id="4003″ width="1280″ height="485″]https://applecenter.co.ke/wp-content/uploads/2021/09/Text-1_Trim.mp4[/videopack]
Durability
Series 7 also comes with new durability improvements as Apple claims into the most durable Apple Watch ever made with it being crack resistant and having iP6x certification making it dust resistant and like the previous versions its still swim proof(WR50)
Battery life
Apple also claims the series has an all-day battery life of up to 18 hours and charges 33% faster than the series 6 and comes with a new fast charger USB-c cable which apple claims will go from 0 to 80% in 45 minutes.
Colors
Series 7 will be available in
midnight
starlight
green
blue
product red
(silver, graphite and gold) stainless steel,
and natural and space black titanium.
In terms of design, the iPhone 13 has had the most significant change while maintaining its flat edge look the most noticeable change would have to be its rear camera arrangements with it having a diagonal dual camera setup instead of the straight top-down arrangement it had on the 12 series.
Colors
iPhone 13 comes in 5 new colors:
pink
Blue
midnight
starlight
product red
On the front, the true depth camera system has been reworked to provide more display area making the notch 20% smaller than the previous iPhone 12.
But that's not all. Under the hood the iPhone 13 has been remodeled to make room for a bigger battery and new tech.
This design is the same in the 13 mini as well.
Display
Both the iPhone 13 and 13 mini feature a more advanced super retina XDR display which is 28% brighter than the 12 series (up to 800 nits) more convenient while using it outdoors in the daytime
For HDR media the peak brightness is higher with it reaching 1200 nits
Performance
Performance-wise the iPhone 13 Pro comes equipped with the A15 bionic.
The A15 bionic is equipped with 5 nanometers and inside that are 15 billion transistors as compared to the A14 chip which had 11.8 billion for
It also has a 6core CPU with 2 high-performance cores and 4 high-efficiency cores
Apple claims the chip is 50% faster than the leading competition but doesn't give specifics
A15 Bionic also features a 4 core GPU for 30 faster graphics vs leading competition
Apple also seems to be pushing the limits of machine learning with a 16-core neural engine that's capable of doing 15.8 operations per second.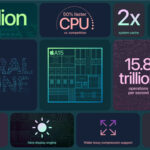 Camera
The ‌iPhone 13‌ and 13 mini feature a dual-lens camera system. The Wide lens features an f/1.6 aperture, while the Ultra Wide features an f/2.4 aperture. The updated Ultra-Wide camera offers better low light performance, and the updated Wide camera lets in 47% more light.
There is no Telephoto lens in the ‌iPhone 13‌ and 13 mini, so these models are limited to 2x optical zoom and digital zoom up to 5x.
Sensor-shift optical image stabilization, a feature once limited to the Pro models, is available across the ‌iPhone 13‌ lineup.
Video
The iPhone 13 has a new video feature called cinematic mode.
Which lets you hold focus on the subject even when they are moving. This also allows for focus transitions to happen automatically in realtime
Battery life
The battery has improved from the 12 series with:
The 13 mini lasting 1.5 hours longer than its 12 mini counterpart
The 13 lasting 2.5 hours longer than 12
Storage
The iPhone 13 and 13 mini will start with 128GB  as the base storage and they also added a 512GB option for the high-end storage.
iPhone 13 Pro & 13 Pro max
As expected there would be a pro and pro max version for iPhone 13  as it was for the iPhone 12.
Both the phones come in 4 striking finishes
graphite
gold
silver
and  new sierra blue which is lighter than the pacific blue from iPhone 12 pro
Design
On the front, you'll notice the true depth camera system is 20% smaller
On the back is a stainless-steel trim that surrounds the camera lens
And just like the iPhone 13, the pro versions' insides have also been redesigned to accommodate new technologies including a bigger battery, all-new camera system and display.
Performance
Just like the iPhone 13 pro also comes with the a15 bionic however this time it has a 5-core GPU to set it apart from the base 13 series.
Display
The pro versions come with a super retina XDR display that can reach up to 100 nits of brightness peak outdoor brightness which is 25% brighter than its predecessor.
The display also comes with a new feature  e called promotion allowing the display to refresh from as low as 10Hz to 120Hz which adapts when scrolling to the user's finger
[videopack id="4004″ width="1280″ height="485″]https://applecenter.co.ke/wp-content/uploads/2021/09/Scroll-1.m4v[/videopack]
Camera system
It has a 77nm telephoto camera with x3 optical zoom
ultra-wide camera with f/1.8 aperture
6-element lens
Autofocus capabilities
And up to 92% improvement in low light compared to the 12 Pro max
A wide camera
f/1.5 aperture
1.9 um pixels
and up to 2.2x improvement in low light.
The camera system now allows macro photography and all camera now have night mode.
Battery life
The pro version also has improved battery life with:
the 13 pros lasting 1.5 hours longer than 12 pro
the 13 pro max lasting 2.5 hours longer than iPhone 12 pro max
Storage:
The pro version starts at 128 GB like the 12 pro series however there's a new  1TB storage option.