Looking for a Trusted Apple store in Kenya?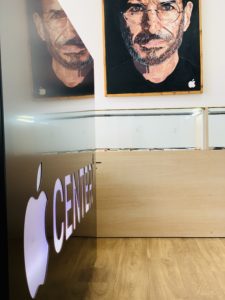 Apple Center is a fast growing and leading Apple service provider in Kenya dedicated to offering the best and lasting solutions for all your Apple products. Founded on entrepreneurial spirit after first-hand use and experience with Apple products, in particular, the MacBook, introduced the founder to take a deep interest in the Apple ecosystem.
With the knowledge of scarcity and overpriced Apple repairs and accessories within the country together with the founder's technical skill background, provided an avenue to open a service providing Center for Apple gadget owners in Kenya concentrating specifically on Apple products with three key fundamentals, reliability, the provision of fully outsourced Apple solutions and World-Class service and support. Starting from the bottom, Apple Center Kenya has been built into a leading Apple solutions provider for Individual, SME and Enterprise Mac clients in Kenya.
We sell and support a full range of Apple products; iPhone, iPad, iPod, MacBook Air, iMac, Mac Pro, Mac mini and their accessories including cables, cases, headphones, batteries, and adapters at  guaranteed preferential pricing on new hardware and software, enabling substantial savings for clients across the spectrum of Apple users including home users, SME's and Big business
Our trained, certified and experienced iOS and MacOS technicians are best placed to repair all your Apple devices, refurbish pre-owned products for certified re-distribution as well as extended after-sales services and support such as system installations, live demonstrations, transferring data, maintenance, one-on-one training, troubleshooting and diagnostics.
Our customer service and certified Apple technicians are also hands-on to offer telephonic and social media support, and our authorized one-stop Apple certified service Center is located at the heart of the city for your accessibility. We believe in delivering the highest level of service, workmanship and quality. It is imperative to us that our customers get the best value for money, and leave The Apple Center with absolute peace of mind.
Apple Center is currently the most entrusted home of all things Apple in Kenya. Our mission is to create a community of Apple users and developers in the country, aiming to become Africa's Apple premium Partner for distribution, support and repairs. We intend to succeed in this mission by providing genuine and quality Apple products and services in Kenya while empowering our staff through leadership and technical training and by simplifying ICT for our clients through our intuitive and experienced customer service.
Understanding that Apple is a premium product and that our clients deserve a premium experience has lead Apple Center Support to be a partner of choice when dealing with anything Apple.
There is still much more to come over the next year, improvement in Apple's market experiences, solutions and services that will take Kenya's Apple users to the next level of technology innovation.
For any information call 0722 986 457 or write to us info@applecenter.co.ke.