Introduction
Apple's WWDC 2023 was a highly anticipated event that brought exciting announcements for tech enthusiasts and Apple lovers alike. This year's keynote featured major operating system updates, new MacBook models, the Vision Pro headset, and more. In this blog post, we will cover all the highlights from the event.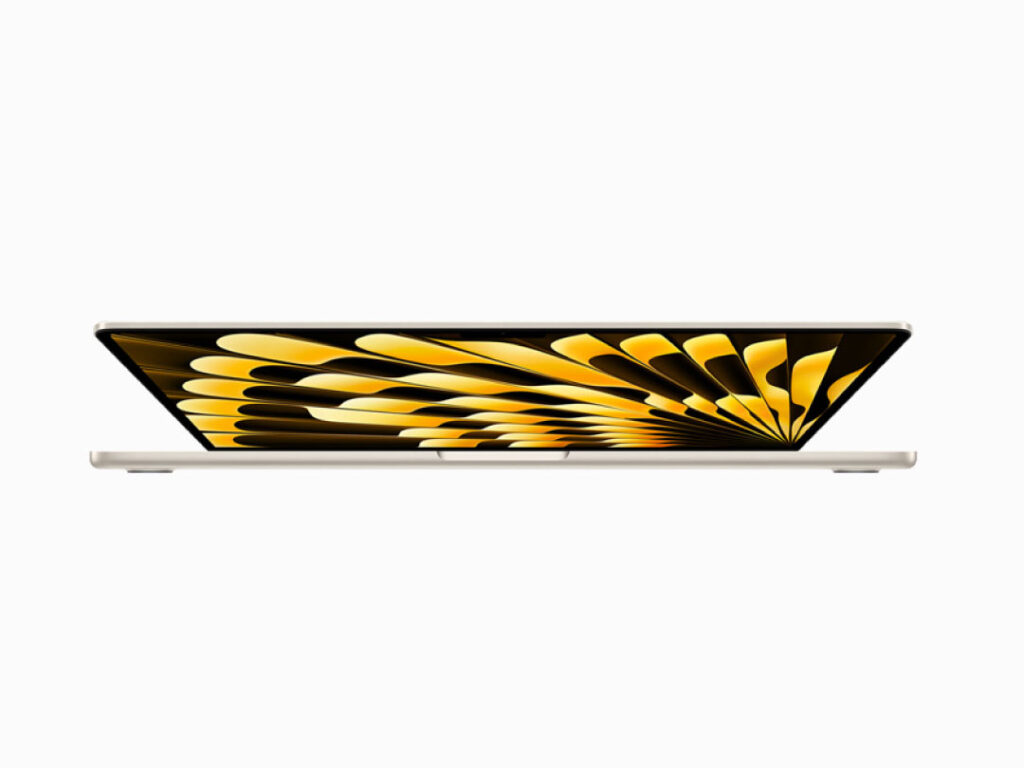 15-inch MacBook Air
Apple started the WWDC with the introduction of a new addition to their MacBook lineup, the 15-inch MacBook Air. This laptop boasts a thin and durable design, powered by the advanced Apple M2 processor. It features a stunning 15.3-inch Retina display and offers exceptional performance. According to Apple, this new MacBook Air is up to 12 times faster than the previous Intel-based models, with a battery life of up to 18 hours.
The MacBook Air M2 comes in four different colors and includes features like MagSafe charging, thinner bezels, and an overall flat design. With its powerful 8-core CPU, 10-core GPU, and 16-core Neural Engine, the 15-inch MacBook Air has the potential to become one of the best laptops in the market.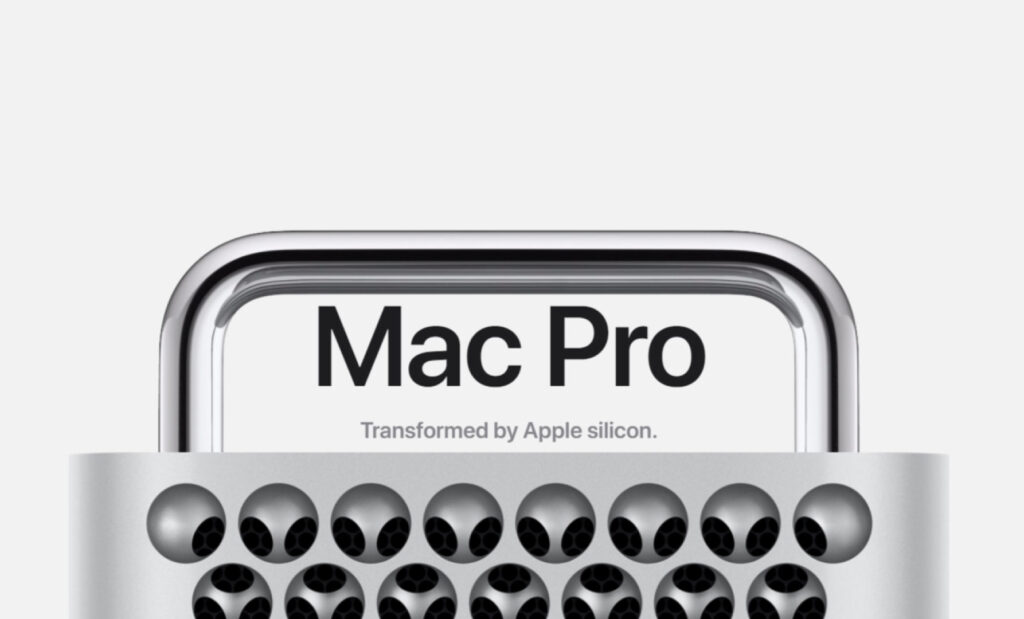 Mac Pro
Apple also unveiled a new Mac Pro The new Mac Pro is powered by the M2 Ultra chip, which is the most powerful chip that Apple has ever created. It is designed for professionals who need the ultimate in performance.
Here are some of the key features of the new Mac Pro:
M2 Ultra chip: The M2 Ultra chip is a 20-core CPU with a 40-core GPU and 128-core Neural Engine. It is the most powerful chip that Apple has ever created and it delivers up to 60% faster performance than the previous generation of Mac Pro.
Removable aluminum housing: The aluminum housing is easy to remove for internal access, making it easy to upgrade or repair the Mac Pro.
Seven expansion slots: The Mac Pro features seven expansion slots, which can be used to add PCIe cards for additional storage, networking, or I/O.
Powerful thermal system: The Mac Pro features a powerful thermal system that allows it to run cool and quiet even under heavy workloads.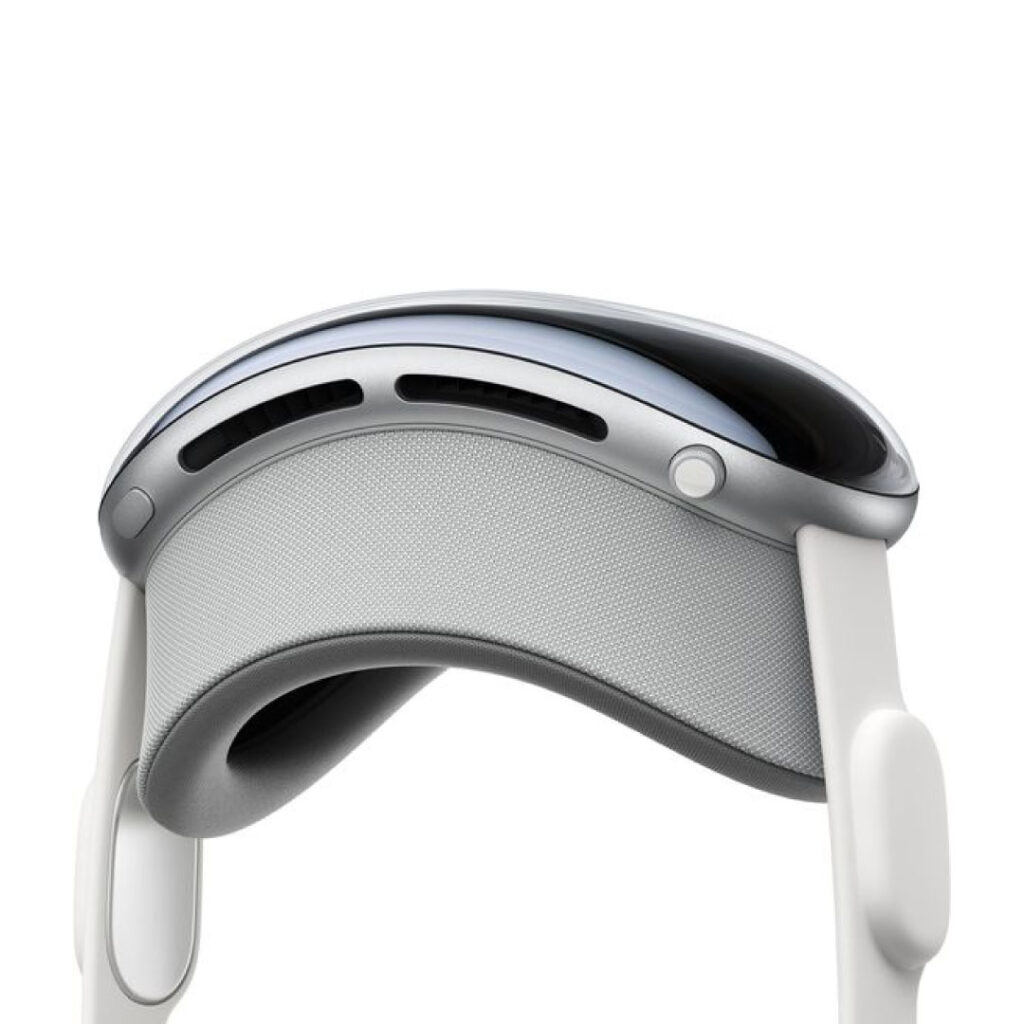 Vision Pro VR headset
One of the most exciting announcements from Apple was the introduction of the Vision Pro headset. This VR headset offers an immersive experience with a three-dimensional interface, allowing apps to appear side by side at any scale. It provides infinite screen real estate, access to favorite apps, and new ways to multitask.
With two ultra-high-resolution displays, the Vision Pro headset can transform any space into a personal movie theater, offering a wide-screen experience. Additionally, it features immersive environments that expand beyond physical room dimensions, providing dynamic and beautiful landscapes to help users focus or reduce clutter in busy spaces. Moreover, FaceTime calls on the Vision Pro headset take advantage of the user's surroundings, displaying life-size tiles and employing Spatial Audio for a realistic experience.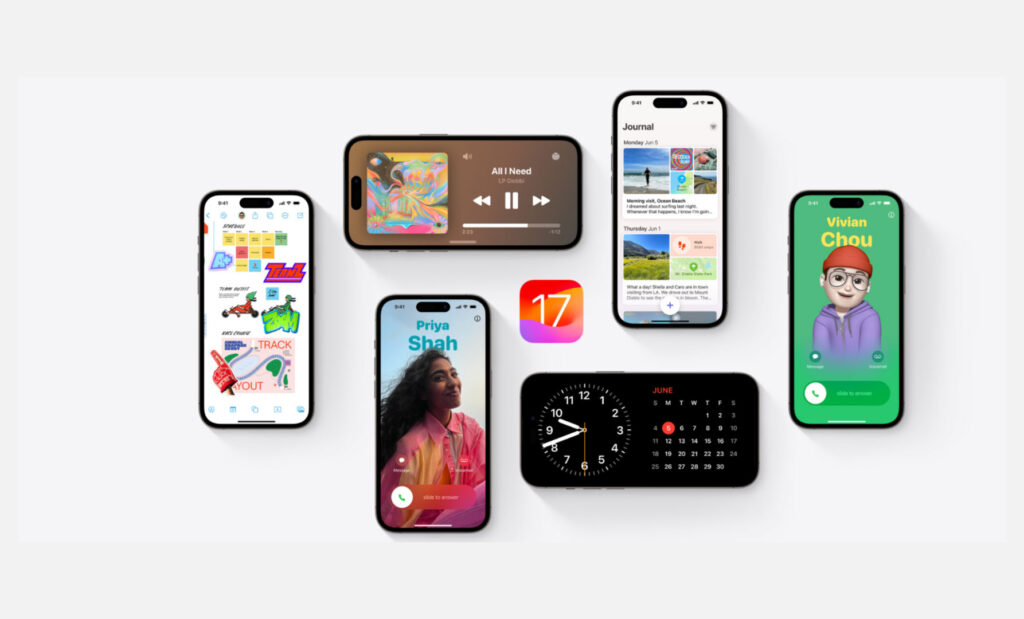 New iOS 17 features: NameDrop, Journal app, Standby
Apple introduced several new features and improvements in iOS 17. NameDrop is a new AirDrop feature that enables seamless sharing of phone numbers and photos between devices. With Journal, a new journaling app, the iPhone uses on-device machine learning to provide personalized suggestions based on various data sources. Furthermore, Standby offers a full-screen experience for the nightstand, displaying the time, alarms, or personalized content like dynamic photo slideshows.
Autocorrect received an upgrade powered by an AI model, resulting in more accurate predictions of words and phrases, including personalized suggestions. Apple also dropped the "hey" from "Hey Siri" and introduced updates to Apple Podcasts, including an enhanced Now Playing interface, search filters, and the ability to connect subscriptions to top apps from the App Store.
Apple introduced significant improvements to the Messages app on the iPhone, including the ability to view transcribed voice messages and a revamped interface that hides iMessage apps. The new "Check In" feature allows users to inform their friends and family about their location or safety. The search experience has become faster and more convenient, and voice messages can now be transcribed for easy reference.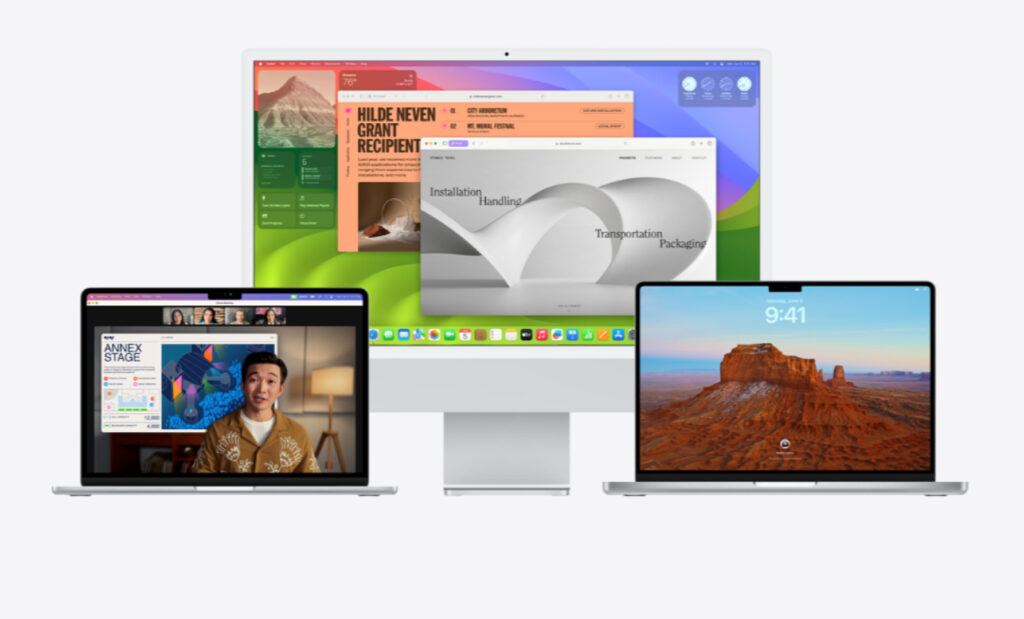 MacOS 14 Sonoma
Apple unveiled macOS 14, named Sonoma, featuring widgets that dynamically adjust to user usage. The desktop operating system now includes a game mode designed to limit distractions during gameplay. Apple is actively working on improving its presence in the gaming space, with a new game porting development kit and partnerships with notable titles like Death Stranding.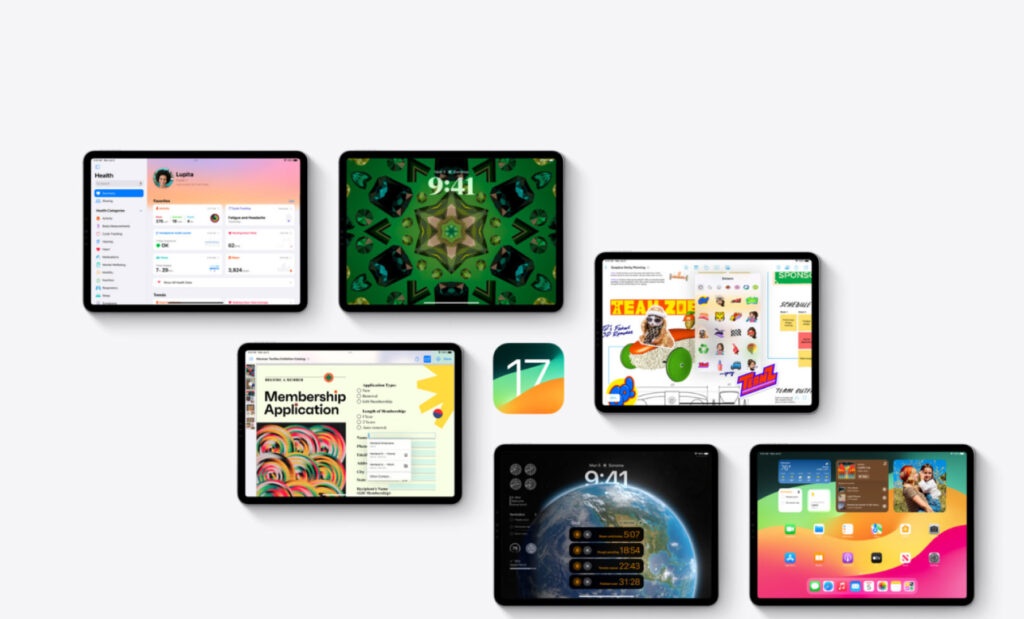 iPadOS 17 and new iPad features
The latest version of iPadOS, called iPadOS 17, brings numerous enhancements for iPad users. Improved widgets offer better live interactions, and the Home Screen can be customized similar to the iPhone. Native apps like the Health app and Notes have received updates, and the Health app is now available on the iPad, providing a larger screen for viewing health data. Developers can leverage HealthKit to create innovative health and fitness experiences for iPads.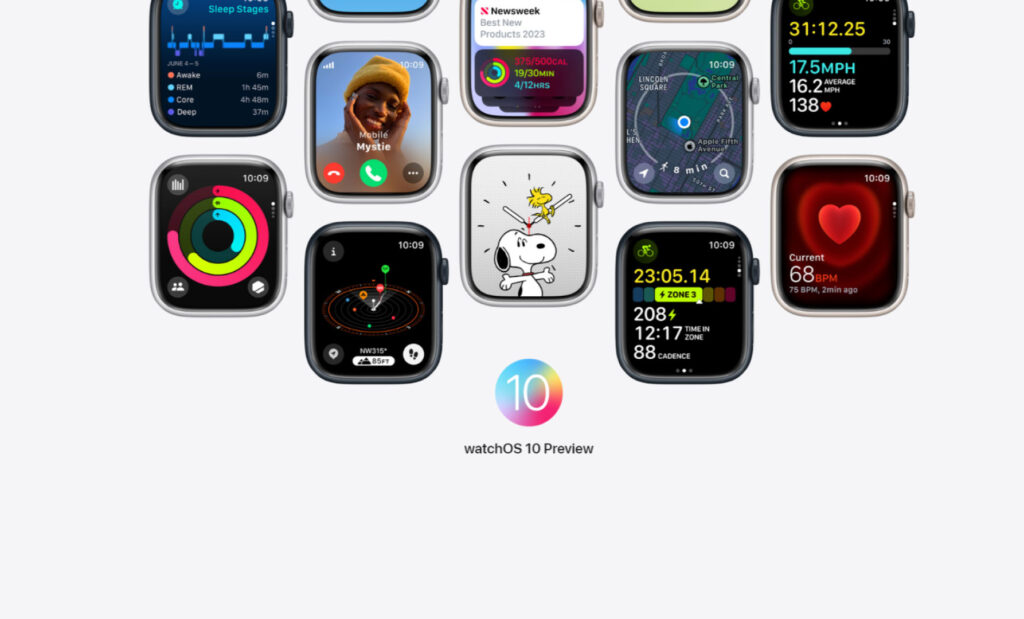 WatchOS 10
WatchOS 10 brings significant improvements to Apple's smartwatch operating system. The updated user interface focuses on widgets, offering a refreshed look and feel. Core apps like World Clock are also receiving a visual overhaul. Users can access the new watchOS 10 widgets by simply turning the Digital Crown, eliminating the need to navigate to the home screen.
AirPods
Apple introduced new updates to enhance the user experience with AirPods. The Adaptive Audio feature seamlessly blends active noise cancellation mode and transparency mode, allowing users to enjoy noise cancellation while remaining aware of their surroundings. The automatic switching feature is also being improved to provide a smoother transition between devices.
Apple TV
Apple TV users can look forward to using FaceTime on their television. By utilizing Continuity Camera on an iPhone or iPad, Apple TV can double as a webcam. Additionally, Apple's AI-powered Center Stage technology adjusts the front-facing camera's framing, providing an improved video call experience on the big screen.
Conclusion
Apple's WWDC 2023 brought a plethora of exciting announcements across its product lineup. From the powerful 15-inch MacBook Air and the immersive Vision Pro VR headset to the software updates, features, and improvements across various devices, Apple continues to push boundaries in technology innovation. These updates promise enhanced user experiences and set the stage for the future of Apple products.
Need an Apple Upgrade? Check out our Apple inventory here