Description
Active Noise Cancellation
with Transparency mode.
Stunning design with an
exceptional fit.
The canopy spanning the
headband is made from a
breathable knit mesh, distributing weight to reduce
on‑head pressure.
The stainless steel frame is
wrapped with a soft-to-the-
touch material for a remarkable combination of
strength, flexibility, and comfort.
Telescoping arms smoothly
extend and stay where you set
them, for a consistent fit and seal.
The beautifully anodized aluminum cups
feature a revolutionary mechanism that
allows each cup to rotate independently
and balance pressure.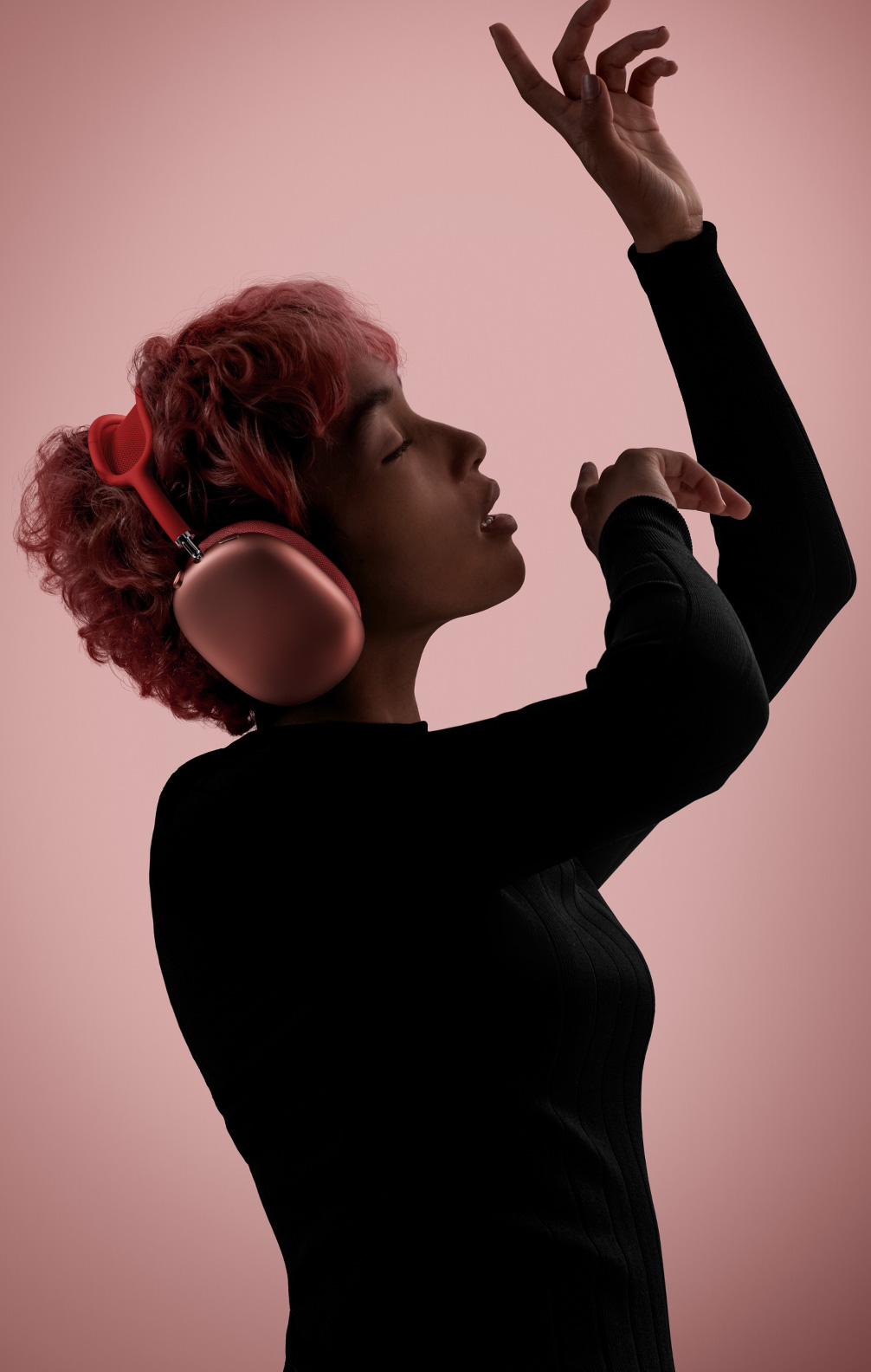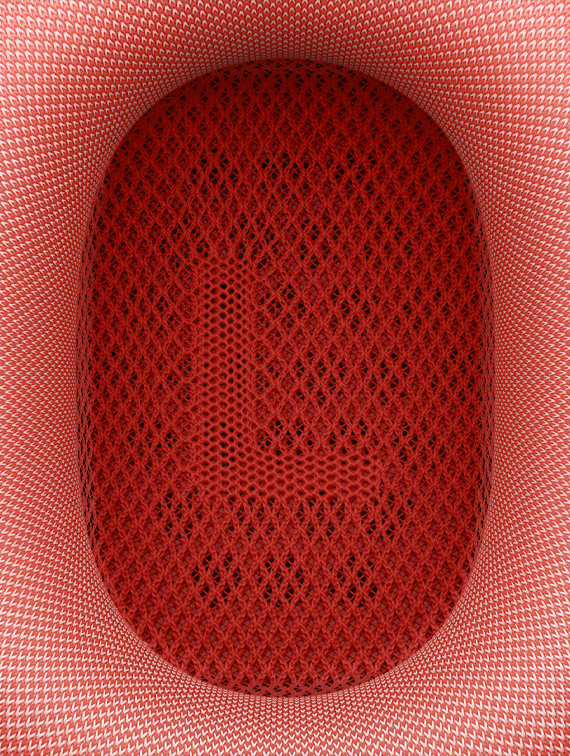 A custom-designed mesh textile wraps the ear
cushions to provide pillow-like softness
while listening.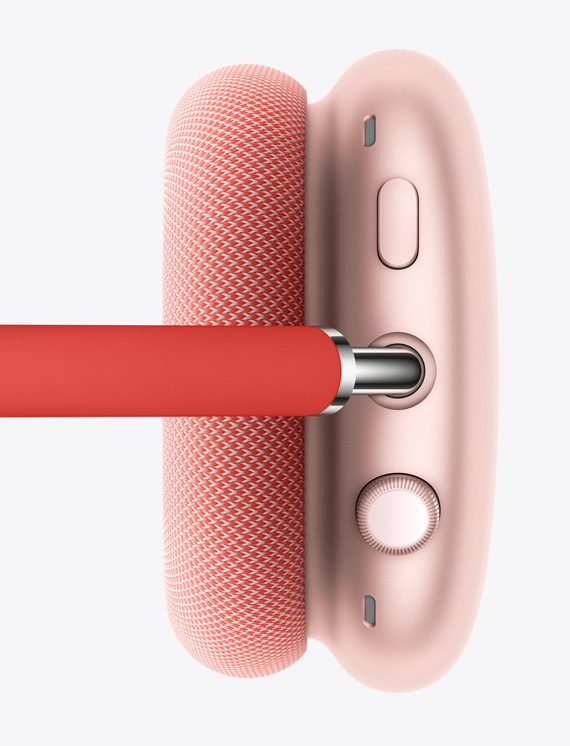 Crafted with acoustically engineered memory foam,
the ear cushions gently create an immersive seal that
is the foundation of incredible sound.
The Digital Crown lets you precisely control
volume, skip between tracks, answer phone
calls, and activate Siri.
Five colors.
Anything but
monotone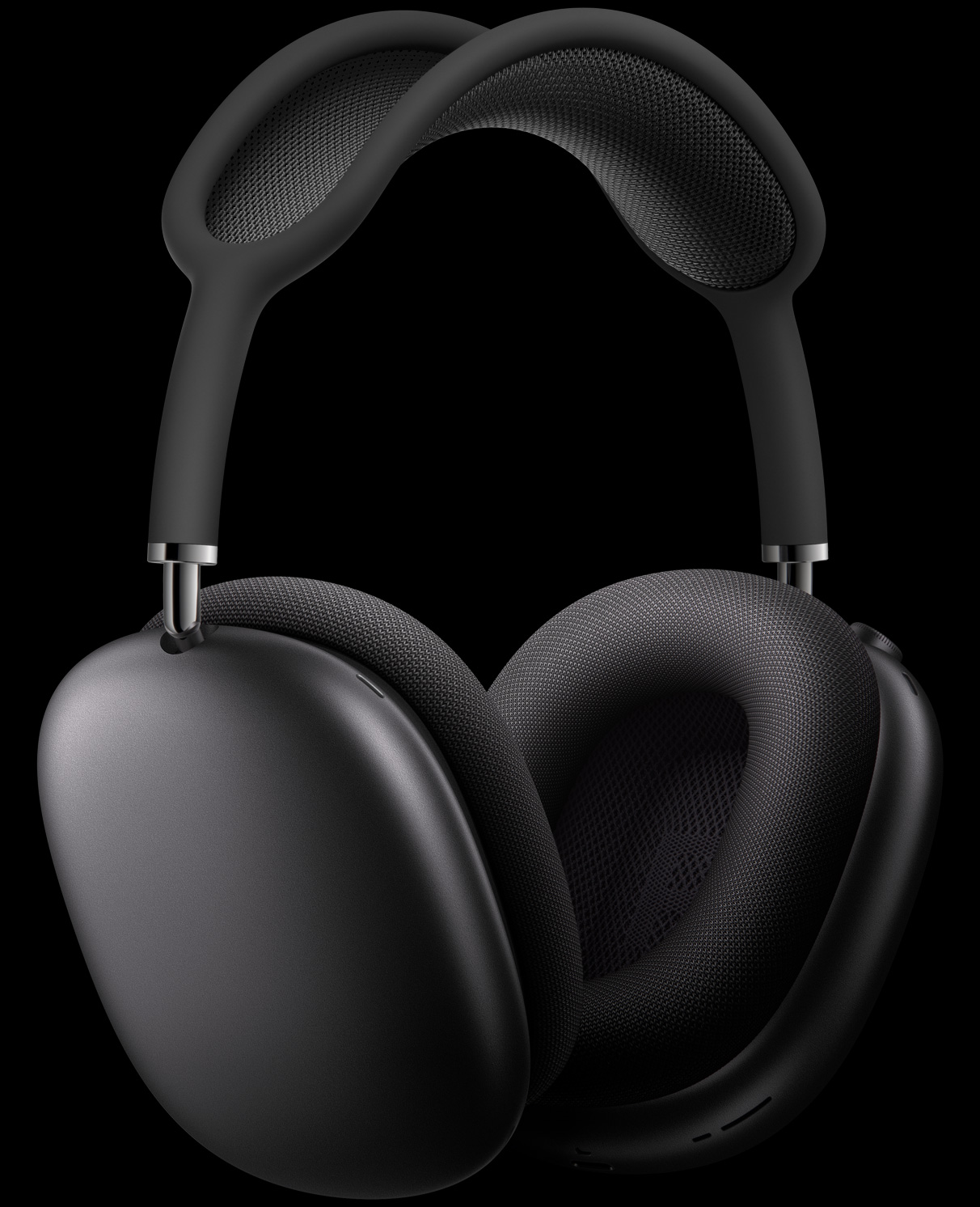 Immersive listening
To cancel unwanted external
sound, AirPods Max use a total of
six outward-facing microphones
to detect noise in your
environment, and two inward-
facing microphones to measure
what you're hearing.
Beamforming microphones help
isolate your voice on phone calls,
so it's heard clearly — even in
windy situations.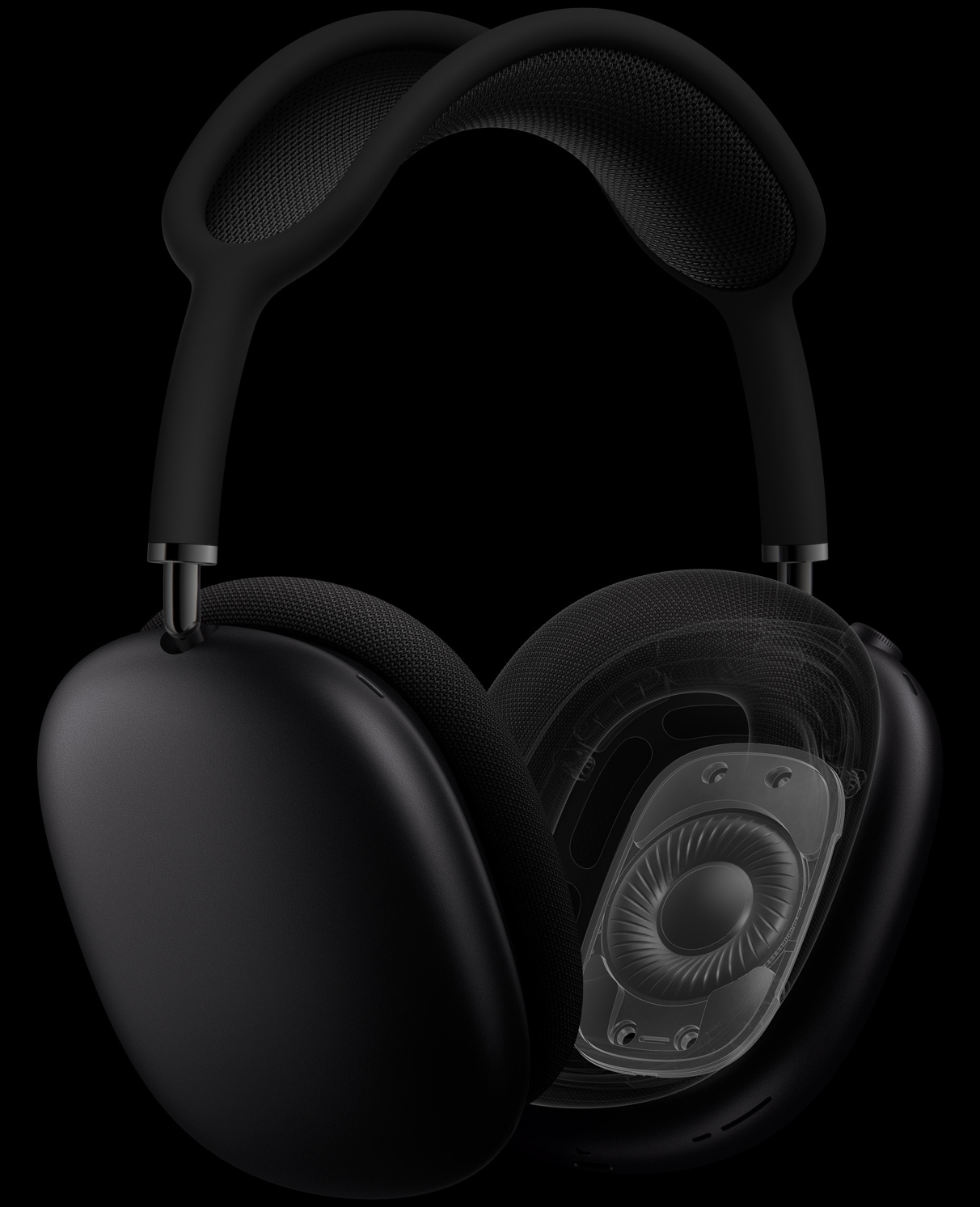 Hear every detail
The Apple-designed dynamic
driver produces a wide frequency
range that uncovers the rich
details of every sound —
delivering your favorite songs
with previously unheard texture
and accuracy.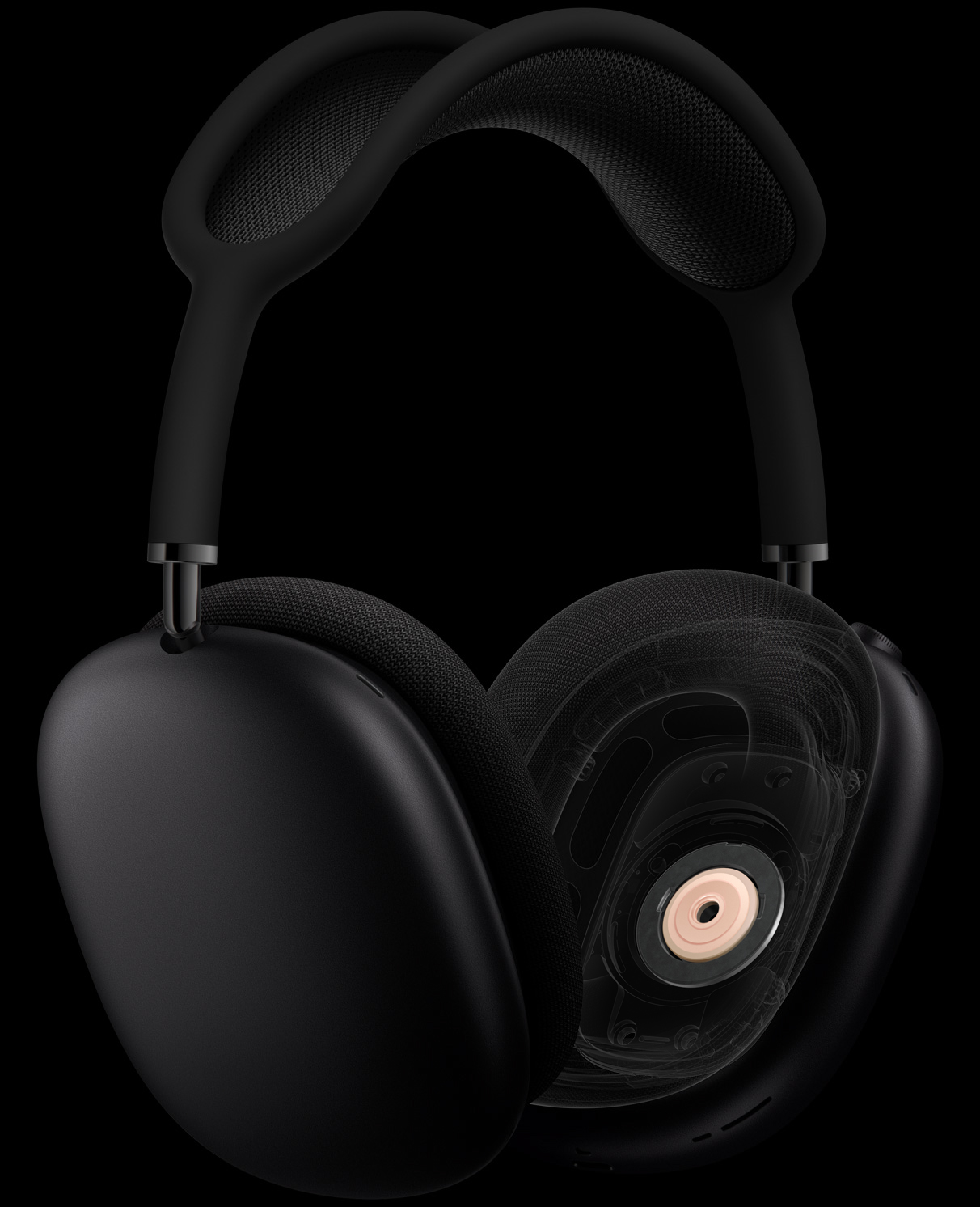 Modeled after those in high-end
floor-standing speakers, the
driver's dual-neodymium ring
magnet motor minimizes total
harmonic distortion across the
entire audible range. The result is
consistently clear playback, even
at full volume.

With a powerful Apple‑designed H1 chip in each cup, our custom acoustic
design, and advanced software, AirPods Max use computational audio to
create a breakthrough listening experience. By tapping into each chip's 10
audio cores, computational audio helps block outside noise, adapts audio to
the fit and seal of your ear cushions, and makes movie scenes sound like
they're happening all around you.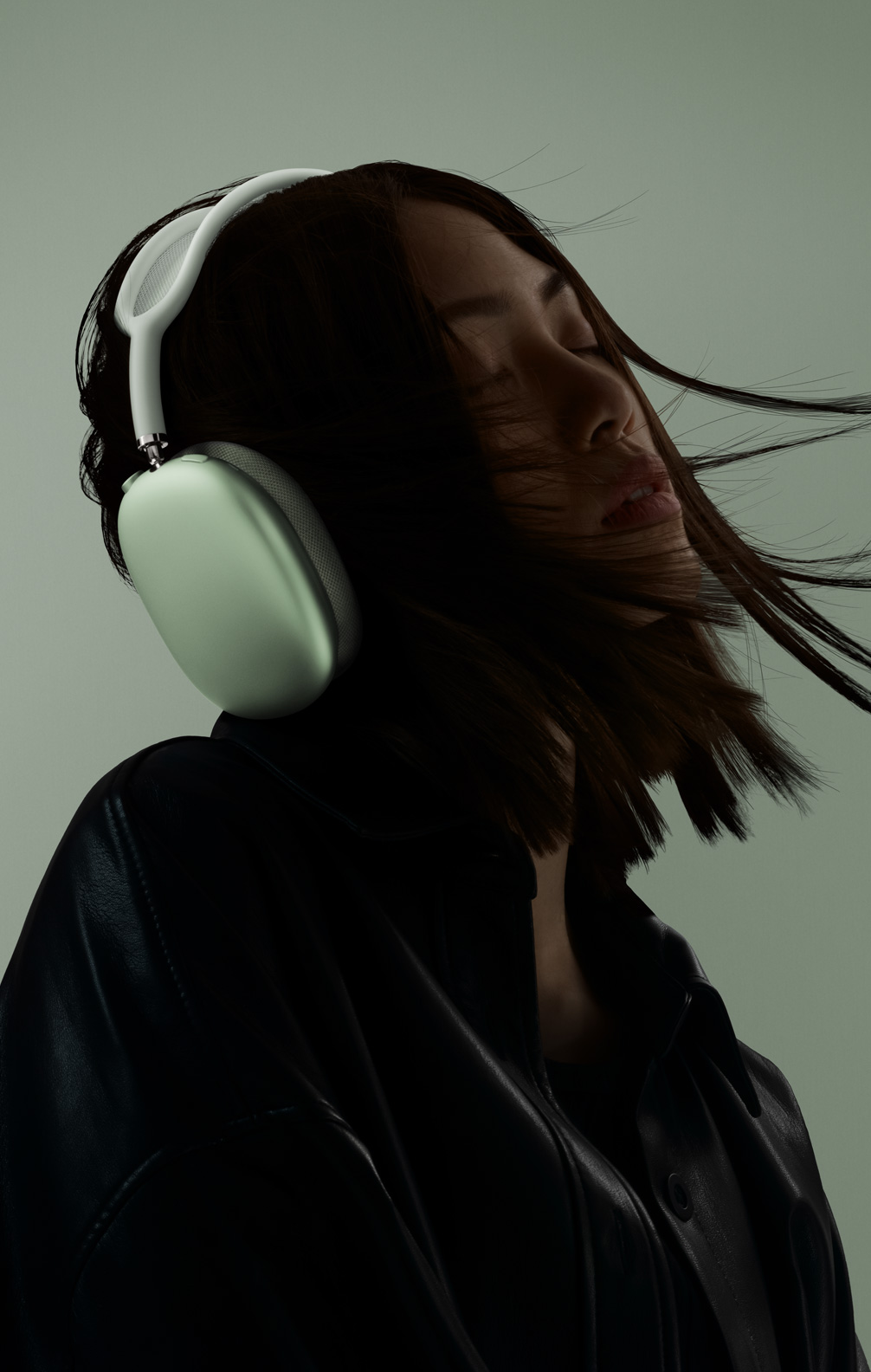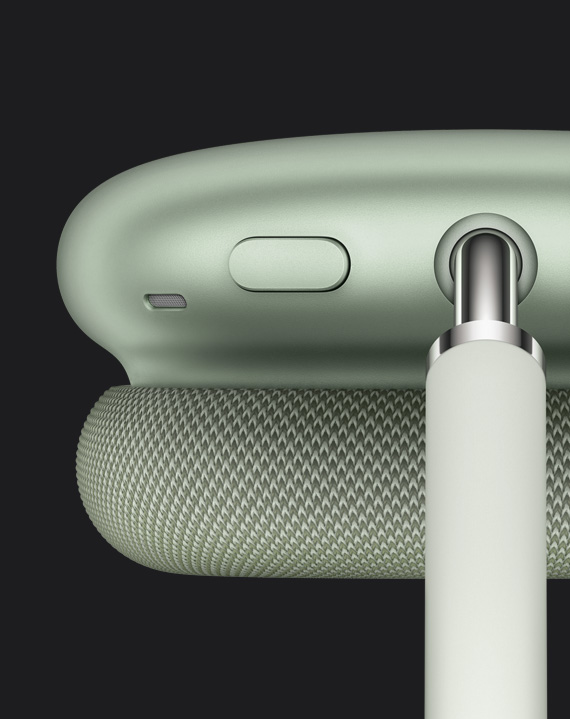 Industry‑leading Active Noise Cancellation counters  
external sound with equal anti‑noise, allowing you to
immerse yourself in what you're listening to.
Press the noise control button to switch to
 Transparency Mode, which lets outside sound in so
you can interact naturally with your surroundings. Spatial audio with dynamic head tracking gives
you a theater‑like experience for movies and shows, with sound that surrounds you. Using
built-in gyroscopes and accelerometers,
AirPods Max and your iPhone, iPad, Mac, or
Apple TV track the subtle motion of your head,
anchoring sounds to your device.
And with Apple Music, spatial audio with
dynamic head tracking places sound all around
you to create a three-dimensional listening
experience.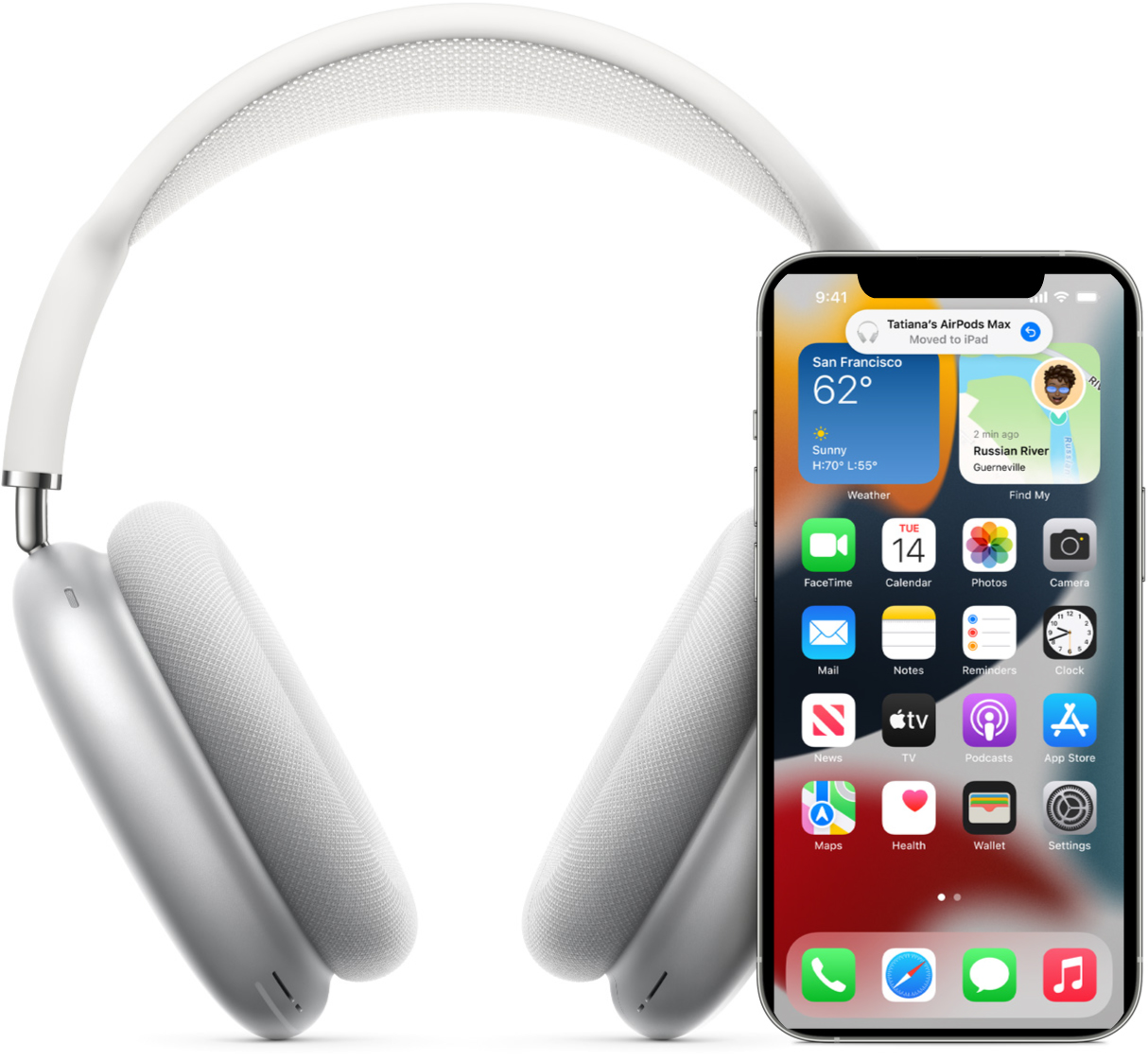 One-tap setup
AirPods Max connect
immediately to your iPhone
or iPad. To pair, simply place
AirPods Max near your
device and tap Connect on
your screen.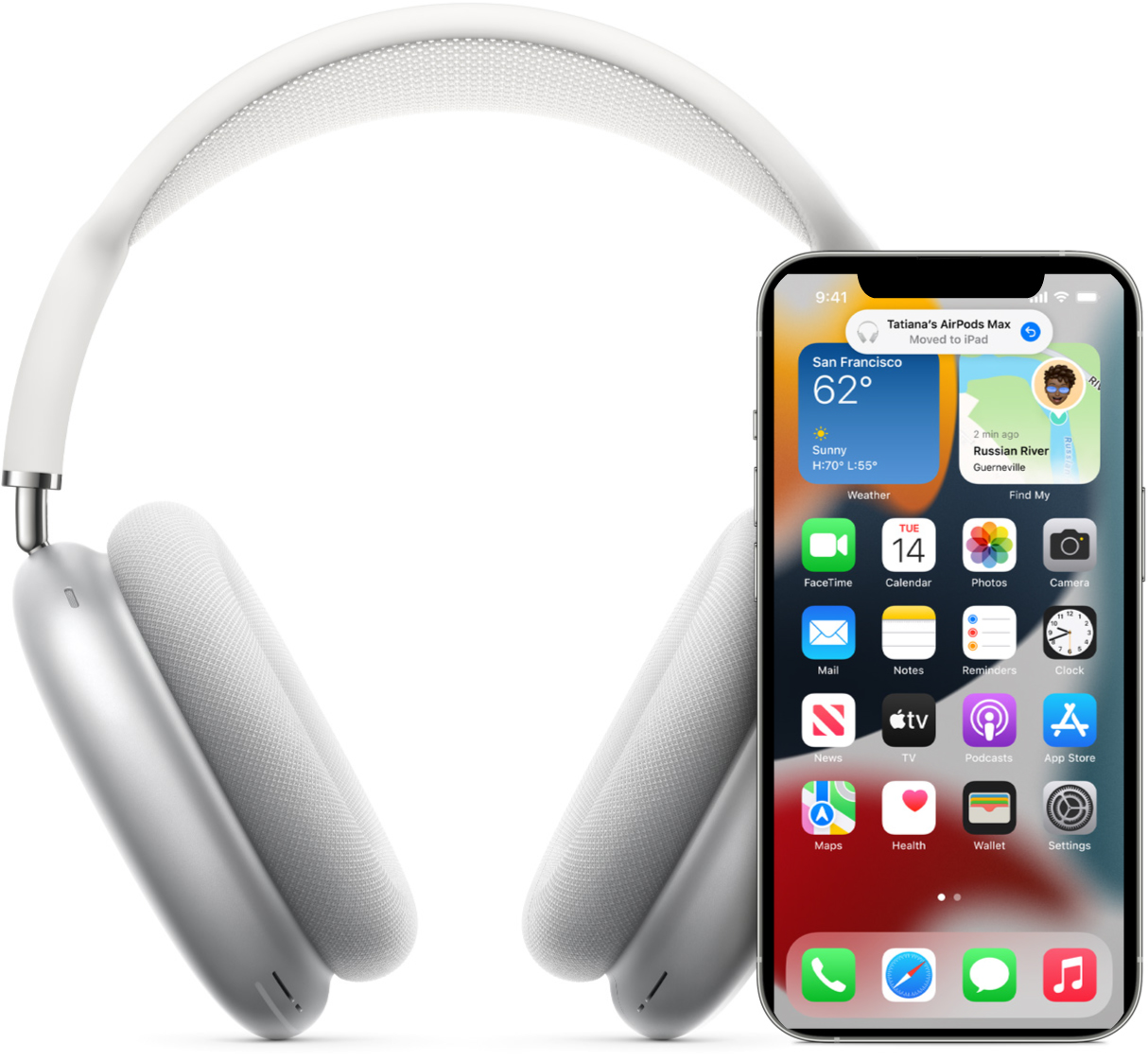 Seamlessly move between
your iPhone, iPad, Mac, and
Apple TV. If you're playing
music on your Mac and take
a call on your iPhone,
AirPods Max will
automatically switch over.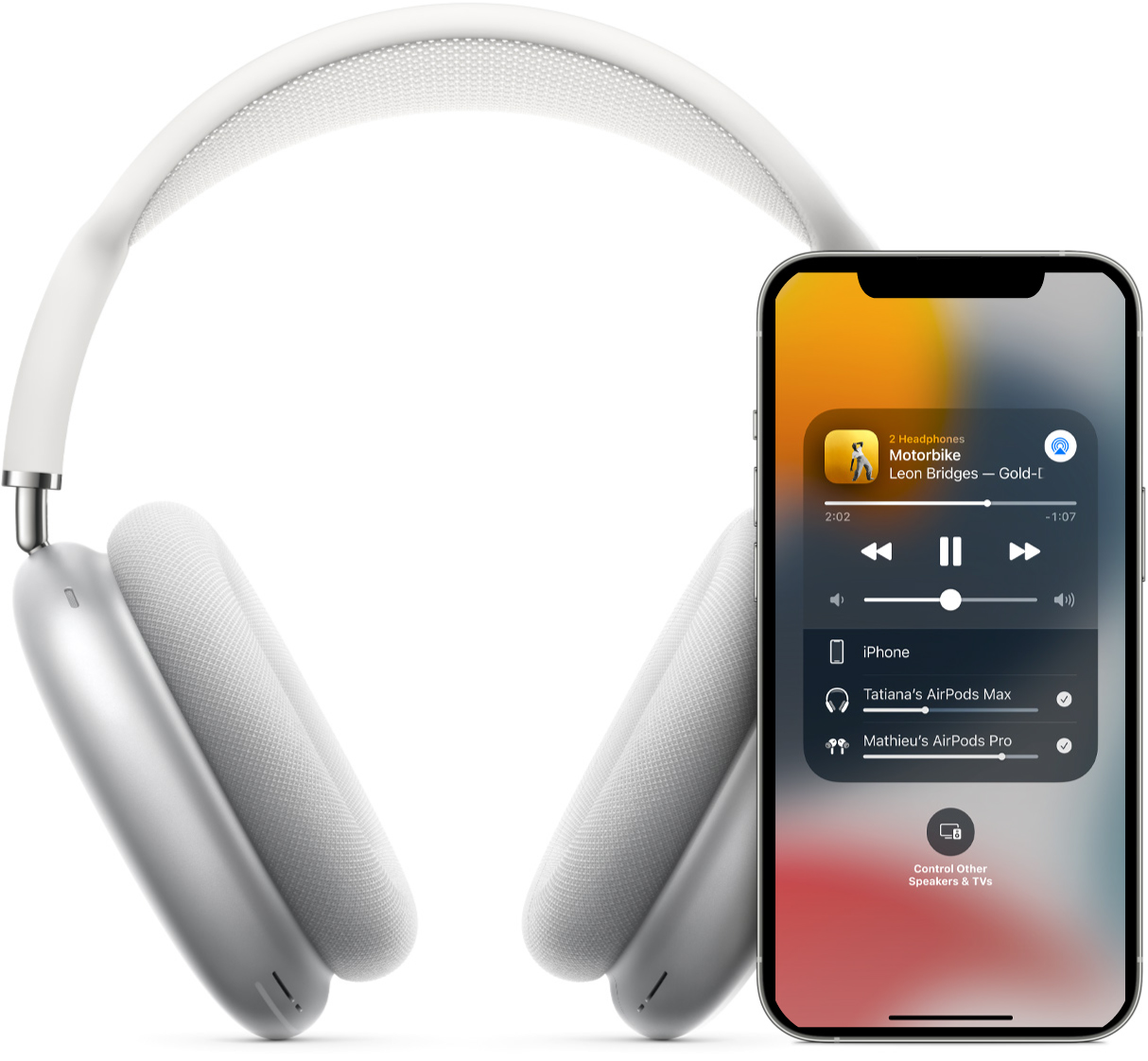 Easily share an audio stream
between two sets of AirPods
on your iPhone, iPad, iPod
touch, or Apple TV. Bring
any AirPods near the device
you're listening to and
connect in a tap.
On-head detection
AirPods Max pause audio
when you take them off, and
resume playback when you
put them back on. So you
never miss a beat.
Announce Notifications
With Announce
Notifications, Siri can
automatically read
important notifications from
Messages, Phone, Calendar,
Reminders, and more as
they arrive. You can even
tell Siri to respond — no
hands required.
Always-on Siri
Get directions, check the
weather, schedule a
meeting, and more with a
simple "Hey Siri." With an
expansive set of commands,
your favorite personal
assistant is more helpful
than ever.
A case with staying power
When stored in their soft, slim Smart Case, AirPods Max enter an
ultra‑low‑power state that preserves charge.
A battery that keeps
stayin' alive
hours of listening, movie watching, or talk time — with
Active Noise Cancellation and spatial audio enabled.
Simply charge via Lightning connector. A quick 5‑minute
charge delivers 1.5 hours of listening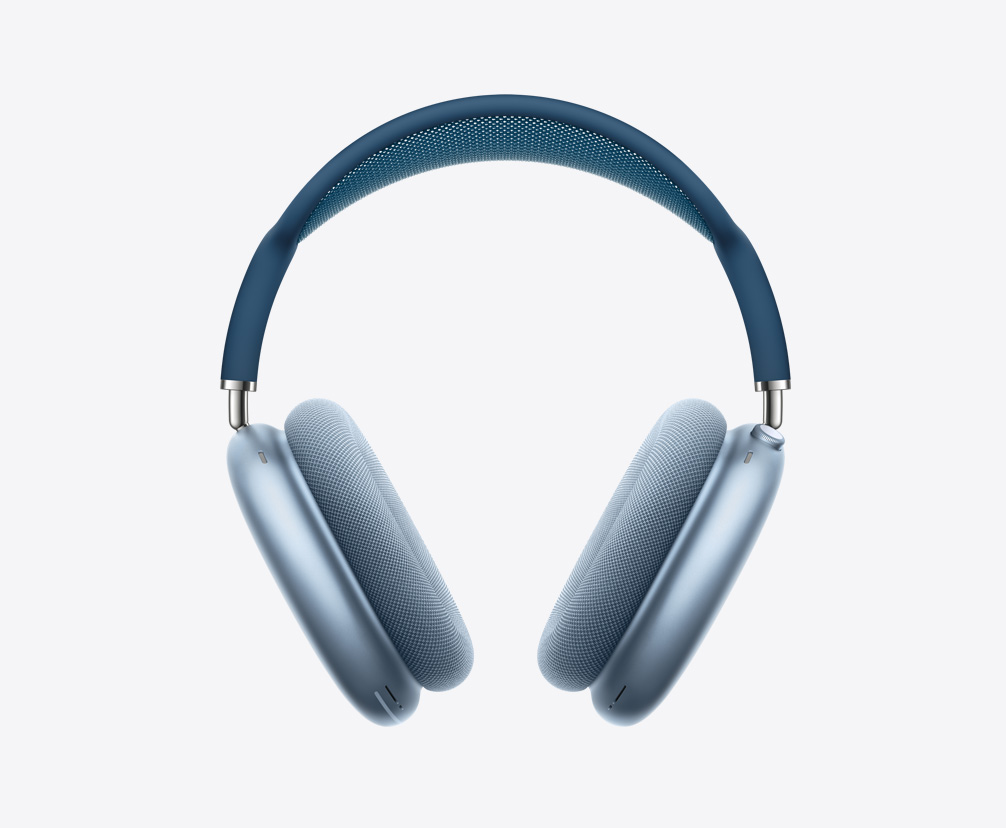 Silver, Space grey, Blue, pink,
Apple-designed dynamic driver
Active Noise Cancellation
Transparency mode
Spatial audio with dynamic head tracking
Adaptive EQ
Optical sensor (each ear cup)
Position sensor (each ear cup)
Case-detect sensor (each ear cup)
Accelerometer (each ear cup)
Gyroscope (left ear cup)
Nine microphones total:
Eight microphones for Active Noise Cancellation
Three microphones for voice pickup (two shared with Active Noise Cancellation and one additional microphone)
Apple H1 headphone chip (each ear cup)
Digital Crown
Turn for volume control
Press once to play, pause, or answer a phone call
Press twice to skip forward
Press three times to skip back
Press and hold for Siri
Noise control button
Press to switch between Active Noise Cancellation and Transparency mode
Hey Siri
Say "Hey Siri" to do things like play a song, make a call, or get directions
AirPods Max, including cushions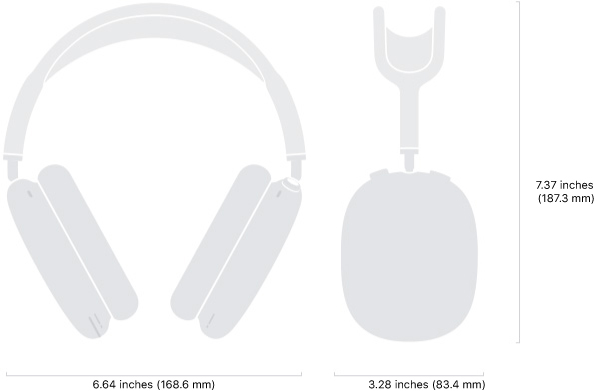 Weight: 13.6 ounces (384.8 grams)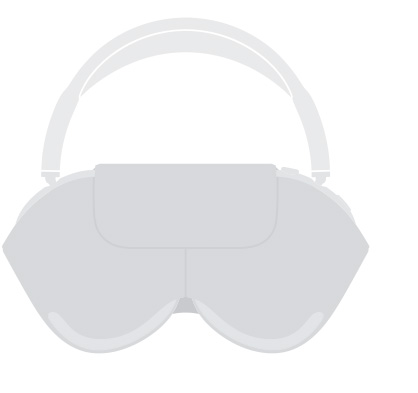 Weight: 4.74 ounces (134.5 grams)
AirPods Max
Up to 20 hours of listening time on a single charge with Active Noise Cancellation or Transparency mode enabled
Up to 20 hours of movie playback on a single charge with spatial audio on
Up to 20 hours of talk time on a single charge
5 minutes of charge time provides around 1.5 hours of listening time
AirPods Max with Smart Case
Storage in the Smart Case preserves battery charge in ultra-low-power state
Charging via Lightning connector
AirPods Max
Smart Case
Lightning to USB-C Cable
Documentation
Accessibility features help people with disabilities get the most out of their new AirPods Max.
Features include:
Live Listen audio
Headphone levels
Headphone Accommodations
iPhone and iPod touch models with the latest version of iOS
iPad models with the latest version of iPadOS
Apple Watch models with the latest version of watchOS
Mac models with the latest version of macOS
Apple TV models with the latest version of tvOS
iPhone Models
iPhone 13 mini
iPhone 13
iPhone 13 Pro
iPhone 13 Pro Max
iPhone 12 mini
iPhone 12
iPhone 12 Pro
iPhone 12 Pro Max
iPhone 11
iPhone 11 Pro
iPhone 11 Pro Max
iPhone XS
iPhone XS Max
iPhone XR
iPhone X
iPhone 8
iPhone 8 Plus
iPhone 7
iPhone 7 Plus
iPhone 6s
iPhone 6s Plus
iPhone SE (2nd generation)
iPhone SE (1st generation)
Apple Watch Models
Apple Watch Series
Apple Watch Series
Apple Watch SE
Apple Watch Series 5
Apple Watch Series 4
Apple Watch Series 3
Apple Watch Series 2
Apple Watch Series 1
Apple TV Models
Apple TV 4K
Apple TV HD
iPad Models
iPad Pro 12.9-inch (5th generation)
iPad Pro 12.9-inch (4th generation)
iPad Pro 12.9-inch (3rd generation)
iPad Pro 12.9-inch (2nd generation)
iPad Pro 12.9-inch (1st generation)
iPad Pro 11-inch (3rd generation)
iPad Pro 11-inch (2nd generation)
iPad Pro 11-inch (1st generation)
iPad Pro 10.5-inch
iPad Pro 9.7-inch
iPad (9th generation)
iPad (8th generation)
iPad (7th generation)
iPad (6th generation)
iPad (5th generation)
iPad Air (4th generation)
iPad Air (3rd generation)
iPad Air 2
iPad mini (6th generation)
iPad mini (5th generation)
iPad mini 4
Mac Models
MacBook (Retina, 12-inch, Early 2015–2017)
MacBook Air (11-inch, Mid 2012–Early 2015)
MacBook Air (13-inch, Mid 2012–2017)
MacBook Air (Retina, 13-inch, 2018–2020)
MacBook Air (M1, 2020)
MacBook Pro (Retina, 13-inch, Late 2012–Early 2015)
MacBook Pro (Retina, 15-inch, Mid 2012–Mid 2015)
MacBook Pro (13-inch, Mid 2012–2020)
MacBook Pro (15-inch, Mid 2012–2019)
MacBook Pro 13-inch (2020, two ports)
MacBook Pro 13-inch (2020, four ports)
MacBook Pro 13-inch (M1, 2020)
MacBook Pro 14-inch (2021)
MacBook Pro 16-inch (2021)
MacBook Pro (16-inch, 2019)
iMac (21.5-inch, Late 2012–2017)
iMac (27-inch, Late 2012–Late 2013)
iMac (Retina 4K, 21.5-inch, Late 2015–2019)
iMac (Retina 5K, 27-inch, Late 2014–2020)
iMac (24-inch, M1, 2021)
iMac Pro (2017)
Mac mini (Late 2012–Late 2018)
Mac mini (M1, 2020)
Mac Pro (Late 2013–2019)
iPod Models
iPod touch (7th generation)